Big Data, the Web and Security
Les Entretiens de Toulouse
Toulouse, France - April 23-24, 2013
As part of this annual scientific colloquium, I will lead a training session and debate on the role of Big Data and the Web in the context of national and corporate security and risk management. Below is an excerpt from the program guide:
"For professionals working in security and defense contexts, the value of Big Data is enormous. Traditional government intelligence gathering disciplines (e.g., HUMINT - human intelligence gathered from agents on the ground, GEOINT - geospatial intelligence gathered from aerial surveillance, OSINT - open source intelligence gathered from sources like the media and the Web, SIGINT - signals intelligence gathered from interception of machine-to-machine signals, etc.) have always been tasked with collecting, analyzing and cross-referencing large (often weak signal) collections of data. With the advent of Big Data, professionals in these disciplines, and their peers working in security and risk management within corporations, can radically expand the volume and variety of data they can mine while at the same time bringing automation and greater accuracy to core tasks such as:

Anomaly and change detection
Event correlation
Incident investigation
Pattern and trend recognition
Threat and vulnerability assessment
Monitoring of known threats
This is particularly important as the nature of threats to be addressed by both public and private security professionals continues to expand. Beyond conventional military concerns related to interstate conflict and war, there are growing risks to governments, the public and businesses arising from independent and organized terrorist acts, as well as social, political and economic instabilities induced by factors such as natural resource insufficiencies and climate change impacts. There is, moreover, the threat of 'natural attacks' on physical and digital infrastructures due extreme weather events that are increasing in frequency and intensity. As a result of these and other types of threats, the nature and type of 'sources' risk management professionals must listen to never ceases to augment."
To register or learn more, visit the Entretiens de Toulouse website (event in French).
Big Data & Innovation: Product-in-Life Intelligence from Machine Data
3DEXPERIENCE FORUM
Orlando, FL - November 6, 2012; Brussels - November 20, 2012
By 2020, an estimated 50 billion objects will be connected to the vast Internet of Things, which already encompasses objects as diverse as boats, planes, highways, cows and coffee pots. To date the data captured by embedded devices such as sensors, meters, RFID tags and chips are used to perform special purpose operations such as content delivery, remote device operation, logistical tracking and service diagnostics; often such data are not used at all. However, this data contains a veritable gold mine of intelligence about the lives of our products and services in the world, intelligence that can help us achieve sustainable innovation in the way we design, produce, deliver and support our products and services. But, to capture the full business value of this massive flow of machine data, we need to give ordinary users such as engineers, designers, technicians and project managers the ability to easily search, explore, visualize and analyze this data. This is where search-based data discovery and analytics comes into play. Come learn more about the role of this technology in exploiting product-in-life machine data, including a deep-dive look at how one organization, the French national postal service, tapped into previously unused data from mail sorting machines to give thousands of front line workers the ability to optimize mail delivery while building a foundation for an entirely new generation of business products and services.
To register or learn more, visit the 3DEXPERIENCE FORUMS web page.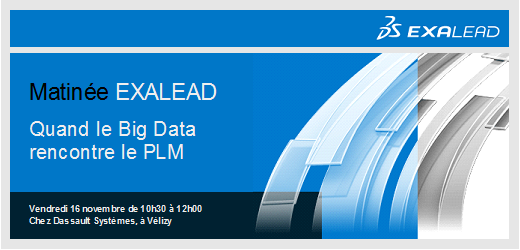 PLM Meets Big Data Discovery
Matinée EXALEAD/3DExperience
Vélizy - November 16, 2012, 10h30-12h00
Breakfast seminar on the use of Big Data techniques and technologies to extend and improve PLM systems.
Dassault Systèmes
10 rue Marcel Dassault
78140 Vélizy-Villacoublay
EXALEAD & Big Data: It's All About Usage
London, UK
June 21, 2012
Join me at this event to learn how you can use the Exalead CloudView search engine infrastructure as an alternate data management systems for Big Data analytics and business applications. The presentation will include case studies of some of Exalead's Big Data deployments. The event will be held Exalead's UK headquarters:
Dassault Systèmes Exalead
11th Floor
26-28 Hammersmith Grove
London W6 7BA
View map
To register or learn more, visit the event web page.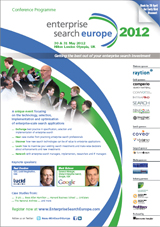 Enterprise Search Europe 2012
London, UK
May 30-31, 2012
On May 30th, I will give a presentation entitled "Big Data: Business Value in Record Time". From the program description:
"By the end of this decade, at least 50 billion devices will be connected to the ever-expanding 'Internet of Things.' Extracting business value from this massive flow of machine data is a prime objective of many Big Data initiatives. Search offers a little known and pragmatic approach to this challenge that is safe, rapid and cost effective. In this presentation, Laura Wilber explores three case studies which use a search platform to deliver real-time operational reporting and analytics on data flowing from household smart meters, wind power production meters, and postal sorting machine monitors. Delegates will gain a better understanding of:
The role of search in exposing latent business value in machine data The role of search technologies in Big Data environments What search-based applications are and how they work"
Download the program in PDF or visit the conference website at www.enterprisesearcheurope.com/2012/.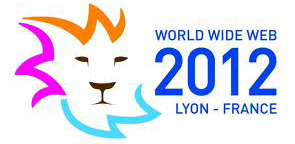 World Wide Web 2012
Lyon, France
April 16-20, 2012
I will be participating in this event on April 18th and 19th, joining in what is likely to be a very lively conversation about the future of the Web. About the conference, from the organizers: "The World Wide Web Conference is a yearly international conference on the topic of the future direction of the World Wide Web. The Conference aims to provide the world a premier forum for discussion and debate about the evolution of the Web, the standardization of its associated technologies, and the impact of those technologies on society and culture." Visit the conference site at www2012.wwwconference.org.
Big Data Webinar
February 9, 2012
The date for this webinar has passed, but you can access the podcast online. Description/link from invitation:
"Ready or not, Big Data is here. It's real. And it's bringing exciting new opportunities to drive innovation, ramp up productivity, and create groundbreaking new user experiences.
Once too voluminous, variable and/or fast moving for most organizations to exploit, revolutionary technologies like search-based applications (SBAs) are now making it economically and technically feasible for organizations of all sizes and types to reap the benefits of Big Data.
In fact, Exalead SBAs have been enabling businesses to safely, easily, and cost-effectively capitalize on Big Data opportunities for years—using the information assets they already own.
To learn more about how you too can capitalize on Big Data opportunities today while positioning yourself for changes to come tomorrow, watch this podcast for an insightful look at real-world Big Data use cases:
https://3ds.webex.com/3ds-fr/lsr.php?AT=pb&SP=EC&rID=45297182&rKey=866e0994d92ab618.